News
Dec 13, 2012
Wow! A NEW Bowl...
Category: Captain's Logs
Posted by: wivvle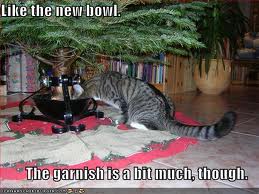 "LOLcat time, and I just wanted to tell this kitty, 'Your pets (humans) REALLY appreciate you!!!'  They go above and beyond in order to please their master.  Just look at the garnishing that they put in the water bowl!  A nice piney smell, too!  How lovely!"
"Okay, Ocee, can I please do the LOLcat now?  You know that this is MY gig!  If you want to do more on the website, please, feel free, but you will NOT take over my LOLcat time!!!!"  says Shtankadoodle.
"But, Shtankadoodle, I am just trying to help!" Ocee says.
"Yes, Ocee, I know, but really???  Look at this stupid cat!  Can't you see that there is a TREE in some water?  This is NOT a new water dish, but a bowl of water in which the tree will stand in order to remain fresh longer,"  explains Shtankadoodle.
"Oh!" says Ocee, with a confused look.
"Yes, Sweet-heart, this is NOT the act of nice pets... well, they might be, but this is one, stupid cat!  There is reality, and then, there is insanity.  This cat is in his own insane, little world.  Yes, I do advocate being the ruler of your domain, but sometimes one has to face the facts and realize that the water is meant for the tree.  I am sure that his observant pets have a water and food bowl nearby for their master kitty, but this is NOT the intent of this bowl," Shtankadoodle says.
"I get it!" says Ocee.  "This is kind of like the large, green aparatus that OUR pets put up in their home.  Right?"
"Yes, Ocee, but our pets do not have a bowl of water below the tree, since theirs is a fake tree that they reuse each year," says Shtankadoodle.
"Fake!?!?" asks Ocee in shock.  "Why would anyone want a FAKE tree?"
"Well, some humans like the fake tree for different reasons.  From my own experience, 1) Cheaper, if you use it year after year; 2) No pine needles dropping on the floor to clean up; 3) Not needing to find a way to dispose of the tree at the end of the season.  It just goes back in the attic. 4) Don't have to figure out how to get it home.  Originally, it comes in a big box that can fit in most trunks or trunks with backseats folded down, and after that it stays at the house, year after year. 5) Not killing any new trees.  In fact, the only downsides I see are:  1) Plastic, which uses fossil fuels, and 2) Not piney in scent, but you can purchase potpourri to fake the smell, " explains Shtankadoodle.
"Wow, Shtankadoodle!  You sure do know a LOT!" says Ocee.
"Well, Ocee, I am a few years older than you are.  Anyway, back to this stupid cat:  THE WATER IS FOR THE TREE!  NOT FOR YOU!  YOUR FOOD WILL NOT BE LOCATED UNDER THE TREE!  AND, WHATEVER YOU DO, DO NOT TRY TO CLIMB THE TREE... IT IS NOT ROOTED, AND THEREFORE, WILL FALL!
Okay, I am done ranting....  well, Ocee, I think that it is about time for my nightly rounds.  Keep the home fires, er... the heater running, and I will see you in the morning to defrost."
"Okay, Shtankers.  Be careful out there," says Ocee, walking away and going to the heated Kitty Shack.
"I think she loves me," sighs Shtankerdoodle looking longingly after Ocee.