News
Dec 5, 2012
Realist Cat
Category: Captain's Logs
Posted by: wivvle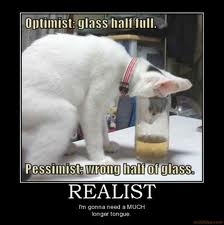 Shtankadoodle here:  I found this poster, and I like it.  I have seen some motivational posters and some de-motivational posters.  This one is right on!  This is how things really are.  You could see it as a "glass half full", you could see it as "the wrong half of the glass", but I am a realistic type of cat.  To me, needing a much longer tongue is true.  Either that or dropping stones into the glass to raise the liquid due to displacement....Ah!  I am a scientific kitty, too! 
Kitties that are ALWAYS happy (you know, like Nermal on Garfield) tend to freak me out and cause me to gag.  No ONE is ALWAYS that happy!  Kitties that are always depressed (like Garfield, himself), are....well, depressing.  I am a REAL CAT! I have fun, I take a nap, I chase my female, I eat, I sleep, I hunt,  I take baths, I climb (well, not too much, but, hey....), and I am a cat, A REAL CAT!
This kitty in the above picture is realizing that life isn't always fair.  That is okay, because if life were always fair, then opportunities to prove oneself wouldn't be there.  Here, he gets to learn about gravity, liquids (and how they spread when cups are knocked over), getting stuck, getting unstuck, and how to figure things as they happen.  I like learning from mistakes and from triumphs.  That is what makes us, kitties, the supreme species.  We like to learn.
Well, I have learned a valuable lesson last night.  The lesson that I learned was:  when it is raining ALL day, don't leave your kitty shack to do your nightly rounds.  Other kitties won't be prowling, either.