News
Nov 26, 2012
Absolutely No Situps!
Category: Captain's Logs
Posted by: wivvle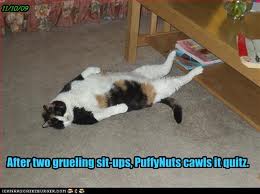 Okay, okay!  Shtankadoodle here.  How many of us, kitties, ate too much over the Thanksgiving holidays?  Lift your paws high!  Okay, I see that we all overindulged a bit, but that is okay.  Don't torture yourself like this kitty in the picture.  Don't demean yourself to worrying about your figure.  That is what our pets do!  We, the supreme beings in our homes, must set an example.  We must teach our lower life-form pets (the humans) that we FEAST, then we WAIT, until we are hungry again.  DO NOT EXERCISE!!!!  
You will digest the food.  It will go away.  You must simply nibble on your 9 Lives and not gorge yourself.... until Christmas!  
Kitties, I only feel like I gained a tiny bit of weight.  Do you want to know my secret?  Go get your calendar.... ready?   When was Thanksgiving?  November 22nd, you say?  Are you sure?  Most kitties (and their human pets) treated Thanksgiving as a WEEKLONG HOLIDAY!!!!!  We do not start feasting on November 19th and continue through until November 24th.  No, No, No!!!
Poor kitty in the picture looks completely bloated.  I, Shtankadoodle, don't really care when you decided to celebrate, but please limit yourselves, kitties, to the appropriate feasting time.  Thanksgiving was a ONE day holiday set up to celebrate the fact that pilgrims FINALLY HAD FOOD!!!!  Now, we gorge ourselves like we don't have any food!  We have food, kitties, just go look in your kitty dish that your pets (humans) have served you.  
Just nibble, now, and you will have you sleek, svelte, kitty shape back in no time.  Also, you may want to chase a mouse, cricket or lizard around, or, if you are as lucky as my female cat, Ocee, a snake!  ABSOLUTELY NO EXERCISE THAT IS NOT PART OF REGULAR KITTY LIFE!!!!