News
Nov 20, 2012
Hmm? The Turkey Is Missing?
Category: Captain's Logs
Posted by: weedles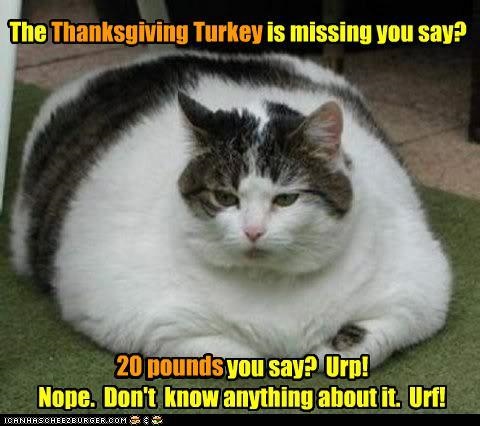 Only a few more days until Thanksgiving, kitties!!!! Have you
hidden
the turkey, yet?  I don't know how the cat in this picture did it, but I LIKE the way that he hides turkeys!!!  I, Shtankadoodle, am a bit chubby, but I don't know if I could achieve such a grand accomplishment!  This kitty has mad skills!!!  Now you see a turkey, and now you don't!   YUMMY!  How about the ham?  Does anyone have any ideas on the ham?
I LOVE turkey and ham.  I, also, like seafood stuffing.  I love feasting.  I think that I am related to Garfield.  He is one cool cat.  Loves to nap all of the time, and when he wakes up, he eats!  The only thing that he has to upset his day is the drooling dog, Odie.  I don't live with a dog, but there is one next door.  His name is Oolie.  Yeah! I know... my pets helped to name him, but it is a LONG story.  Maybe I will tell you another time.  All that I know is that if Oolie tries to get my Thanksgiving meal, I may end up having an Oolie meal!!! 
Back to the cat in the picture.  Cats have the right CAT-titude!!!  I don't understand humans.  They are always worried about how they look,  but look at this cat:  DOES HE LOOK LIKE HE IS WORRIED ABOUT DIETING?!?!  Um, no!  Cats, inherently, understand that they are AWESOME!  We do not worry about a little extra weight or looking skinny in our fur.  A cat knows that feasting takes place at the feasting time, and then, he fasts during the lean times.  Think of our kitty relatives, the lions.  They can attack an antelope, gnaw on him for a few days, nap for a few more days, and then, only when they start to get hungry do they start the hunt, again.  The cat in the above picture has had a MARVELOUS hunt, and now he will digest it until Christmas.  THEN, he can hunt down the ham! 
HAPPY HUNTING!