Home
Nov 8, 2012
Keep Claws Retracted
Category: Captain's Logs
Posted by: wivvle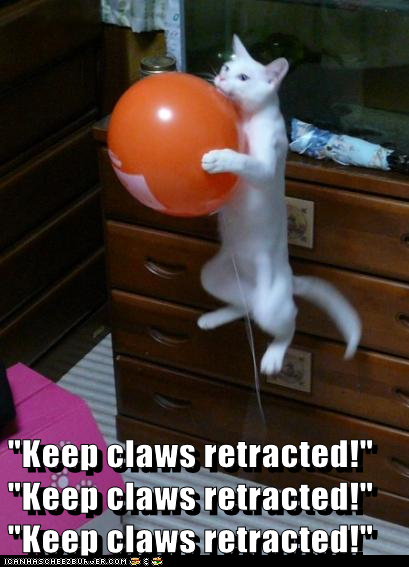 Lolcat speaking:  Hi, guys!  This is a guest post.  You know how Shtankadoodle is always critiquing the lolcats?  Well, today, I am going to critique myself.  I am asking to remain anonymous due to the utter humiliation and stupidity involved.  Anyway, here is my story...
I am just a simple kitty with a dream of flight.  I have always wanted to levitate --- to go where no kitty has gone before, but where all the birds seem to go!!!  I like birds.  So, I devised a scheme, in which, I would get to the birds.
I guess that I didn't really think this whole process through, but, at least, I was still inside my pets' home when I discovered this.  How in the heck was I to attack the birds without puncturing my mode of transportation?  I couldn't even let go with one paw.  If I did that, well, I would plummet to the ground.  If I tried to swing quickly, knab a bird, and grab back onto my balloon, could I time it right and not pierce my balloon with my claws?  I was in a cunnundrum...a pickle....a dilemma!!!  All I could do was to hold on tightly and repeat the chant, "Keep claws retracted!  Keep claws retracted!  Keep claws retracted!"  You get the idea.  
Well, anyway, for my critique on myself:  Don't try this at home, kitties!!!  This is a stupid move!!!  No one wants to die, and this seems like a sure fire way to do so.  I was lucky that I had a ceiling above me.  But what if I had been even dumber than I was?  What if I had tried this outside?  On a windy day?  Please, dear kitties, I implore you:  DO NOT TRY THIS AT HOME!!!
Shtankadoodle here:  Wow!  I guess that I am impacting my fellow kitties more than I thought.  Although my guest kitty, who shall remain nameless at his request, was an idiotic and stupid cat, he did live and he learned from his lesson!  Sometimes we have to go through life's tough lessons in order to learn, but it is said that the wise learn from others' mistakes.  Please, kitties, learn from this lesson and do not become stupid cats, yourselves!!!