News
Nov 1, 2012
A Blight On Our Species!
Category: Captain's Logs
Posted by: weedles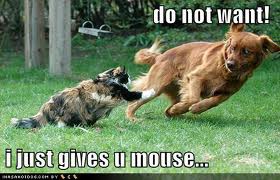 Okay, Okay... what does this lolcat mean?  Is this kitty trying to befriend the dog (one of our most hated enemies?) and give him a mouse, or does he think the dog IS a mouse?  To me, it looks like this kitty is trying to attack the doggie.  He looks like he is waiting to pounce on him.  However the wording is poorly written.  The wording makes it seem as if the kitty is sharing a mouse with the dog, and the dog is refusing it.  The problem, here, is that I have examined the picture with my keen, kitty eyesight (okay, I may need kitty-glasses, soon, but, really, do you see a mouse?), and I have not seen any sign of said mouse.
So, this kitty gets two paws down in this lolcat.  One, he is not making his intentions clear.  The wording and picture do not line up.  And, two, he is, either, attacking a dog (which I can applaud) or trying to share with a dog (in which, we may have to disown him!!!)  Unfortunately, for the kitty, the wording (although poorly written) looks as if he is trying to share with a canine!!!!  How horrible!!! A real blight on our species.  Let me warn you kitties out there that fraternizing with the canine species will not be tolerated!!!! (Well, we might allow for some leniency if the dog helped to raise you.)  I have seen a few, and I mean only a few, cat / dog relationships where the kitty may use the dog for a bed.  Then, again, why would a dog deny us our rightful role?  We are CATS!!! If we want to sleep on a dog, I think that it is our PURR-ogative  (perrogative) to do so.  They should feel worthy that we deem them acceptable as beds!!!
So, let's go over a couple of rules here:  1) No sharing with dogs (at least not intentionally.);  2) We are superior beings and, therefore, are entitled to:  lay on, sit on, scratch on, gnaw on, ride on, hiss at, claw at, growl at any of the canine species.  The picture, above, looks as if the kitty is following rule number two fine, but when you look at the wording accompanying the picture, this kitty is clearly violationg rule number one!!!!