News
Oct 31, 2014
What Words Would Cats Come Up With
Category: Captain's Logs
Posted by: weedles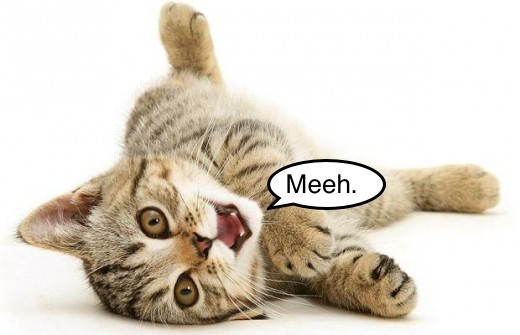 Okay, so here's the scoop.  What words would we, meaning us cats, come up with if we could affect the english vocabulary?  Surprisingly, that's a question that has been asked a lot recently on my blog (not really…just go with it) and here are the answers.
Feedme.  This one was submitted by me.  FEEDME!!!! is loosely translated in english, to "feed me" or "give me food".  I have noticed that it is very easy to add 'please' on the end, but that's just taking the "catt-i-ness" out of the word if you do that.  Please respect our new word.
Wy.  This one is the one that your cats may mew softly after being preceded by a "seriously, I'm trying to nap here!" look.  It is translated to, "why" in english.  And yes, yes!  I know it's not very original…but coming up with new words isn't my idea of a "priority" either.  Humans already had that covered a long time ago…
Im_getting_very_angry_but_you_probably_don't_know_it.  Ocee said that this word was lame, and that it sounded like an email adress, but I don't see the resemblence between this word and an email adress at all.  However, I do see the "lameness", and I have a good exscuse: My schedule is chock-full of napping, and I don't have ALL day to ponder new words.  Also this one is pronounced "Me-e-ow".  And humans, this one will surely be easy to recognize when your cat meows it.
Meeh…  THIS one is my original, in fact I was saying it nearly every day before I realized that I had come up with it completely on my own!  So this one means "I want something"  or, "I want that" in english.  And it's put to great use!  You, and that means humans as well as cats, can use it in

any

conversation.  Watch:

Son:  Pass the corn, Mother!
                       Mother:  Absolutely dear, while we're at it—Meeh (pointing toward the mashed potatoes, and choking down a hairball)  Also, I am a cat, so some of these "human" scenarios may not be entirely accuarate. 
  2. Sad stranger:  I'm so devastated!  So devastated!  SO DEVISTATED!
     Passing person:  Why?
    Sad stranger:  (between sobs) Meeh.
  3.  This one is for cats, and is a good example of how very cool you actually sound when you say "Meeh".
                 Cat 1: Meeh.
                 Cat 2: Meeeeh.
                 Cat 1: You didn't say it right, cool dude.
                 Cat 2:  That was an accident.
                 Cat 1: 'K
                 Cat 1: Meeh.
                 Cat 2. Meeh.
So really, as demonstrated above (Yes!  I know it's not the cute, fuzzy, warm answer you humans were looking for in this article,  but this is MY answer, and if you haven't noticed, I'm not a cute, fuzzy, warm cat!), Meeh, is a very versatile conversation piece.  I like to use it when I want attention.  I'll lumber over to my pet, and then gently meow "Meeh".  Oh, and I'm only gently meowing anything  because my voice box is just so hoarse from all the fights I get into, NOT because I am a gentle cat.  (Even though I am gentle toward my pets).
So really that's all for today folks!  And good riddance, I mean good-bye for the rest of the weekend!
Signed, Shtankadoodle (Your furry, Louisiana, rag doll, 'fluff-a-muffin" if you will.  Just don't call me that and we'll be alright)