News
Oct 8, 2014
And You Call Yourself What?
Category: Captain's Logs
Posted by: wivvle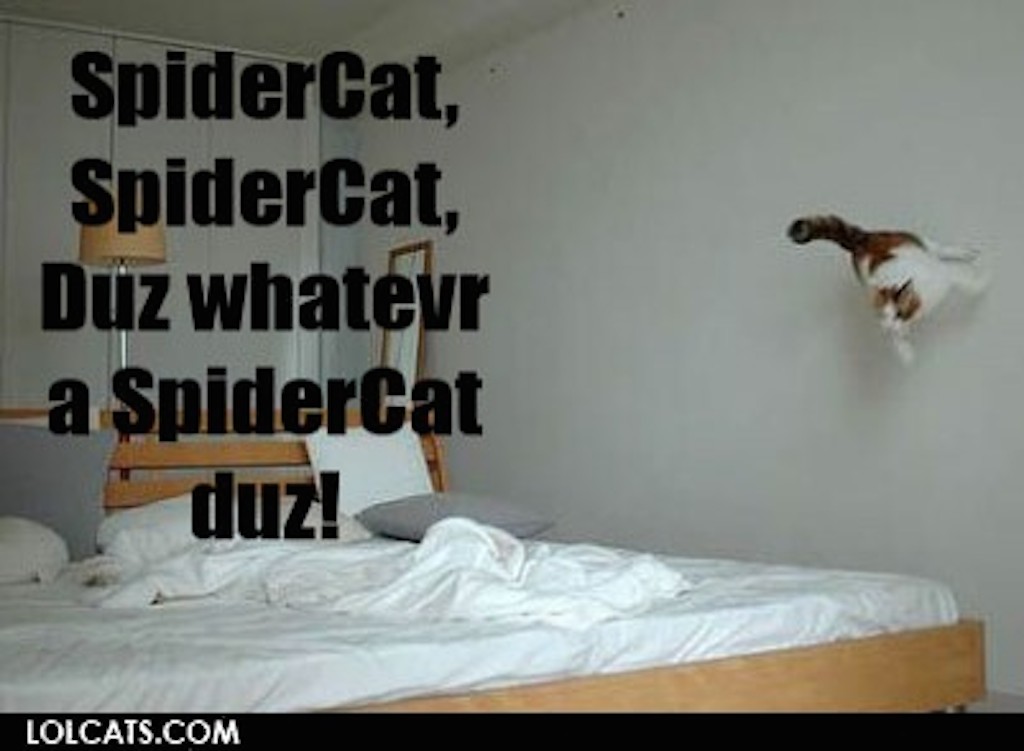 Now look at this…I have to admit, I'm kind of speechless—That might be because of lack of sleep though, because I am sort of feeling tired.  Back to the point though.  How dare this cat, this cat with so much potential, even associate himself with another, lesser species.  Sorry humans, everybody has to wake up someday and acknowledge the cold-hearted truth: 99% of all cats are better than you.  And about that.  I wrote '99%' in stead of of '100%'.  And you know why?  It's because of cats like this.  Oh how this cat disappoints me.  Hmph.  "Spidercat" …what a silly name…he could have at least come up with something more original…say…super-cat?  Yeah, I like that.  Supercat.  But that is besides the point.  Both names, including mine, demote our species.  One of the many cases of this "fantasy" modern cats get themselves wrapped up into now, is this lolcat himself.  He WAS an awesome, magnificent, wonderful, talented, incredible, extraordinary cat—not to mention dignified and kingy…er,…kingly.
So, Mr—.  Are you trying to impress the many pets (humans) out there (there are a lot of them too…not to worry, I haven't seen any shelters for our beloved pets!) with your mad skills?  Do you have to associate yourself with something that their, even though they do make good pets, puny, small minds can comprehend?  Look Mr—.  They think they're our owners.  Are you really so dumb as to think you have to demote your position as the king of your house for them to acknowledge you?
Until you realize that you are, indeed, the master of your domain, do not talk to or make any contact with the rest of this dignified and elevated species  (not even in comments!) !  Once you have reconciled you mind to the fact that you are of the highest and most brilliant species, then, and only then, are you allowed to converse with us again!  Until then, we're going to shun you.  Forever.  Hold on, where'd that come from?  Shunning, is for amish-cats, I'm not one.  See, I'm posting an article.  Right here.  Big furry paws propped up on my lap top just typing away….again, not amish-cat…So as I was saying,  until you drop this foolish act you're playing, we are no longer going to tolerate you as one of us.
-Shtankadoodle.  I hope this post clarified something for let's say, "spider cat", and helped someone in the massive kitty community out there!