News
Mar 18, 2013
Stare Down Contest!
Category: Captain's Logs
Posted by: wivvle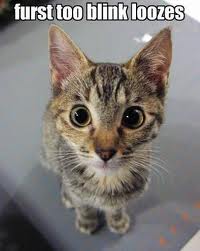 Shtankadoodle here:  It is LOLcat time!  Boy, does this cat remind me of Ocee, my female.  Ocee can win any staring contests paws down.  She is a master at staring without blinking.  She, also, had this annoying habit of chirping, "Me-Ow", while staring at you.  This can sometimes lead to blinking, because you are so surprised to hear a cat chirp that you blink without realizing it.  Ocee loves this.  She loves to catch you by surprise.  Yes, she is a pawful, but I love her.
Anyway, on to the LOLcat part of this post.  I wonder what this cat is trying to say.  Is he saying that he is just so good that there is NO way that you can beat him?  Or, is he saying that he wants you to play against his picture that he submitted?  Hmmm, well, obviously, I won't play against his picture, but I will put Ocee against him anyday.  If it is a contest of wills, I KNOW that Ocee would win.  She is one stubborn cat!  (Don't mention that last part to her, please.)
Okay, I am off to practice now....1, 2, 3, STARE.  What if I started the contest with my eyes closed?  Can I just keep them closed and win?  The only rule is NO BLINKING.  If I start with my eyes closed, I know that I cann keep them closed for about 10 hours.  Hmm, I may be on to something here.  Let me go and contact this boy and see what his thoughts are on starting with your eyes closed.  Bye for now!