News
Mar 14, 2013
No Possible Way That This Plan Can Fail
Category: Captain's Logs
Posted by: wivvle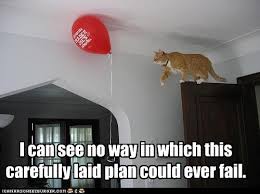 Shtankadoodle here:  I just don't understand what kitties have against learning about gravity.  This is the second post this week in which I have mentioned gravity.  Please, cats, study Isaac Newton.  
Now being tempted by something unknown or wondrous is very appealing.  You want to figure out why something is the way that it is.  I was tempted by bubbles... shiny, little, sparkly balls that floated.  Who knew that they existed?  But, I was not about to jump off of a 7 foot tall door in order to check it out.  I was a little smarter than that.  Anytime that falling straight down more than three feet is involved, I use a bit of common sense.  Hmmm, common sense doesn't seem all that common anymore.  I wonder why?
Well, kitty, I hope that things work out for you.  Check out this post, where a kitty at least remembered not to use his claws when dealing with floating balloons.