News
Feb 12, 2013
Kitty Skills
Category: Captain's Logs
Posted by: wivvle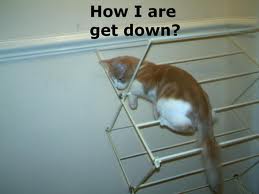 Shtankadoodle here, and it is LOLcat time!  Now, I don't know why anyone would want to make fun of a little kitty cat.  I am absolutely appalled that anyone would think that this is humorous.  Of course, cats are wonderful, intelligent, and "Bear Grylls"- like in their survival skills.  This cat is just in training.  Yep, that is right.  How else do you think that we progress to be the AWESOME SPECIES that we are?  Well, we must practice.
Little kittens must undergo a rigorous training schedule in order to survive.  It is a tough world out there for a cat.  We must be ready.  If you don't receive proper training, you might end up like Whiskers.  That is a scary thought. Whiskers is a nice cat, but he has NO valuable skills whatsoever.  So, he is making meatless subs.  
You must applaud this kitty.  Yes, maybe he is stuck, but give him a moment to problem solve, and I bet that he will be successful!  Cats are born problem solvers, and we like to be on top of our game!  
ALWAYS DO YOUR BEST, KITTY!  GOOD JOB!