News
Jan 29, 2013
You Care... You Really Care!
Category: Captain's Logs
Posted by: wivvle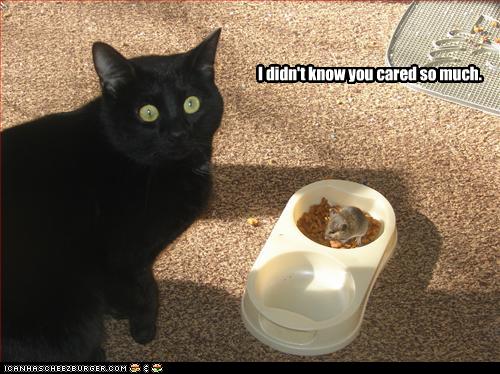 LOLcat time:  Shtankadoodle here, and I must say that I am impressed.  Not only can this cat spell, use contractions, and properly punctuate his sentence, but he has his pets (humans) trained so well that they put a mouse in his bowl for dessert!  What an awesome cat!  
My pets (humans) don't bring me dead mice, let alone live, warm ones, like this kitty gets.  I get some 9Lives twice a day.  That is okay, though.  You see, my female, Ocee, likes to hunt.  She LOVES to hunt.  So, I get regular presents of birds, lizards and mice.  She doesn't really ever bring me snake, though.  Maybe I should talk to her about that.  A nice grasssnake, every now and then, would be sublime.  You must have a female to hunt for you!
That has to be it!  He is a bachelor, and his pets (humans) are providing for him, since he doesn't have a female. Well, kitty, I think that you do have awesome pets, but I wouldn't trade my female in for a warm mouse every now and then..... No siree!  I like my female very much.  She is nice to cuddle, tease, chase, play, and snuggle with.  I can't imagine my life without my female.
Hmmm.... the first time that I REALLY saw Ocee, I had been away on my week-long border patrol of my territory.  I came back in for refueling and sustenance, and there was ANOTHER CAT AT MY BOWL!  How horrid!  I thought that I had been replaced.  I felt awful!  I had only been gone for MAYBE 5 days, and another cat was eating out of my bowl, being petted by MY pets, and over all receiving the love that I DESERVED!   At first, I growled at her.  Then, I checked her out.  Then, I realized that she WAS A HER!!!!  
"HHHHMMM!"  I thought, "Having a female around could be nice."  I decided to wait and see, and to try to get to know Ocee as soon as possible.  I tried to sniff her, but she didn't like that.  I tried to rub against her, but she tried to claw my face.  This courtship wasn't going as quickly as I had hoped.  Oh well, Shtankadoodle is patient!
I waited, and waited, and waited, and waited, UNTIL she could sit near me and actually relax.  For a long time, she wouldn't even sit where she couldn't see me.  BUT, she gladly moved into my domain.... WOMEN!!!!  Well, now, we are a bonded unit.  She is my female, and I am her male, but those were trying times.  I am so glad to have her.....  Yes, we, males, need our women.  
I would gladly have my female over a freshly delivered mouse any day.  I love you, Ocee!