News
Jan 24, 2013
Take That You Dog!
Category: Captain's Logs
Posted by: wivvle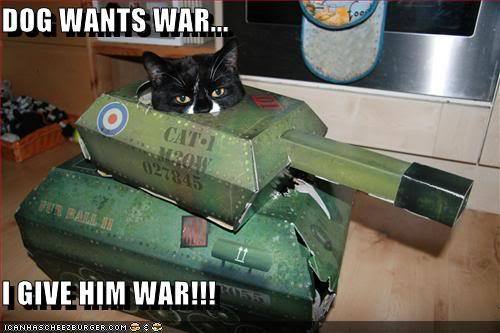 Lolcat time:  Shtankadoodle is here.  Now, I am not very prone to violent behaviors, but I do feel that a cat has to defend his territory.  Otherwise, he isn't really a cat.  Now, most of the time when I speak of other species on this site, I am referring to the sub-feline species of humans (or our pets).  We don't know what we would do without a Cat's best friend, but there is another species out there that we don't mention too often.  It is a hideous, repulsive, nasty smelling species.  That species is simply known as D-O-G!
Canis lupus familiaris, otherwise known as the domestic dog, is a pathetic, pandering mammal that actually tries to PLEASE humans!!!!  What a horror!  Why would any species stoop so low as to try to impress a human?  Wow!  I am absolutely appalled by the canine's lack of self-confidence.  Absolutely pitiful!  
So, as the LOLcat evaluator, I, Shtankadoodle, the most famous Ragdoll Cat ever, say, "Charge!"  Let that inferior dog know that he is not anywhere near equal to the Royal Kitty Cat!  Let that stinky, rude, barbaric dog know that we, cats, take no prisoners!  We don't start the wars, BUT WE FINISH THEM!!!
(Also, I am so glad this kitty can spell.  A true leader must be able to direct his troops, AND there must be no misunderstandings in his orders.  A kitty that can spell, write and speak well can lead us to victory!  He is not flamboyant in his words, but he gets straight to the point!  This is a good leader.  No flowery words, but true direction.  Good luck, General!)