News
Jan 14, 2013
Rain Is NOT Good!
Category: Captain's Logs
Posted by: wivvle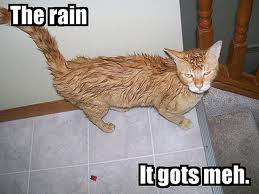 Shtankadoodle here:  I dislike rain.  It has been raining here in South Louisiana for many, many days.  It rained for almost week, then we got a day off from the rain.  Unfortunately, that one day was still overcast and VERY humid.  Then, it started raining again.  Nothing ever has a chance to dry out.  My nice Kitty Shack is very damp.  My bed is damp. My food is damp.  My pets (humans) are damp.  My female is damp.  My behind is damp.  I can't sit on anything that isn't damp.  
I do not like the "wet" look.  Most kitties don't, so I, totally, understand this kitty's frustration with rain.  That look of utter contempt is not for his pets (humans), but for the wet stuff falling from the sky.  Kitty, here, only wants to dry off, eat a nice meal, and get warm.  
A frustrated, wet, cold kitty cannot be expected to spell correctly.   He is shivering SO badly that his paws can't make contact with the keyboard very well.  I am having some problems myself, but I am a very determined kitty, and I WILL use the backspace key to fix my mistakes.  Oh well, kitty, go get on a nice heating pad to warm up, and get some rest.  Once you are dry, you will feel SO much better.