News
Jan 11, 2013
C-A-T...That's Me!
Category: Captain's Logs
Posted by: wivvle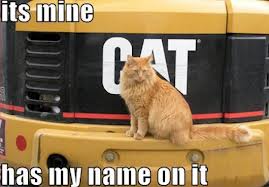 LOLcat time:  Shtankadoodle is here, and kitty....No!   First of all, your name is not CAT.  You ARE a CAT!!!  I am a cat, but my name is Shtankadoodle.  Do you see the distinction?  Next, every cat in the world could claim these vehicles, since they are all labelled with our species' name.  
LOLcat:  Well, if the humans want something, why don't they label it "HUMAN"?
Shtankadoodle:  That is a good point, but the way I see it is that they are honoring us, kitty-cats.  By naming their vehicles after us, they will always remember us, even when they are away and working.
LOLcat:  Oh!
Shtankadoodle:  Yes, we truly are the supreme species.  Our pets name vehicles after us, and they are big, massive vehicles! We are so idolized that we are honored in many ways:  Jaguar, Bobcat, Cheetah, Cougar, Puma and Wildcat.  We, even, have fireworks named after us!  You know, Black Cat fireworks!
LOLcat:  We are desired, aren't we?  (Looking, knowingly, at Shtankadoodle.)
Shtankadoodle:  Yes, we are... Purrr!  I feel so loved!  Now, all of you, kitties, should feel loved and wanted!  
(P.S.  This is Shtankadoodle's pet (human) writing now.  I won't say anything, if you, pets, don't.  We shouldn't shatter our Kitty-Kings' pride with the knowledge that other vehicles were named after other beings, such as:  Beetles, Rabbits, Foxes, Mustangs, Pintos, Hornets, Marlins, Stingrays, Sables, Road Runners, Larks, Impala, Barracuda, Cobra, Bluebird, etc.  But, this will be our little secret.  Okay?)